Solutions Focused on Guest Experience
We Enhance Hospitality Environments by Infusing Technology Designed to Maximize the Operational Output of Building Efficiency.
HOW WE ACHIEVE YOUR Facilities OPTIMIZATION GOALS
Build guest loyalty with cost-effective solutions that enhance comfort, healthy indoor air, and overall experience  with leading-edge technology and lifecycle services.
turnkey project management
End-to-End support from concept and design through  commissioning to scope and budget.
Our building technologies service can unlock untapped savings by controlling & managing your energy use.
Your security partner for scalable, integrated security solutions from design to implementation with lifecycle support.
Our industry-certified pro a/v team offers a full array of solutions, design, and installation services.
Our service team will provide your facility with utilities, maintenance, and security support for optimal comfort.
Our experts can help improve the productivity and well-being of your building occupants with quality air.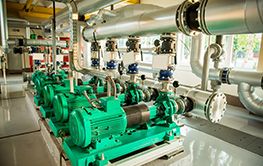 Stark Tech offers a range of mechanical and electrical infrastructure solutions to optimize facility optimization.
Stark Tech offers clean-tech solutions, including solar development, energy master planning, and implementation.
NAVIGATING GUEST DEMANDS BY INVESTING IN TECHNOLOGY
From rising costs, surging demand, and a strained labor market, the hospitality industry must get creative in order to meet guest requirements and approval standards.
With access to a range of manufacturers and equipment, and years of combined experience in the industry, our certified Pro A/V team at Stark Tech can provide both full design and installation services. Whether we're installing state-of-the-art audio and visual system equipment into your performance venue, or integrating high-tech security systems into your school facility, we can help you get the job done with ease and on budget.
Hotels are highly complex, energy-intensive environments that are held to high standards. Today's full-service hotels are expected to deliver engaging, personalized services to retain guest loyalty. 
The hospitality industry was one of the hardest hit during the height of the pandemic. Leaders in the industry had to think fast, adapt and create new strategies to stay afloat. New guest demands meant contactless check-in, touchless technologies, indoor air quality management, and an emphasis on enhanced hygiene. 
As the industry bounces back from the pandemic, integrating hotel technology not only enhances the guest experience, but it helps facilities management achieve operational excellence and drive down energy consumption. This is increasingly important as staffing levels are not back to pre-pandemic levels. To overcome obstacles, technology can be infused to overcome skilled labor gaps and help with profitability, efficiency, and productivity. 
Property managers can view, manage, control and optimize operations, reducing waste and enhancing safety through an integrated building approach.  
Plus, guest experience can be enhanced with end-to-end guest room control solutions,  including more personalized services, comfort and convenience. 
WHAT OUR CUSTOMERS ARE SAYING
Our clients recognize and value our distinctive and validated approach. No other organization matches our combination of building and energy systems expertise, analytics platform, engineering, & IT network professionals.  
BUILDING MANAGEMENT THAT DELIVERS RESULTS
With a long history of facilities management and expertise in indoor air quality, our team of experts understands why delivering holistic facility optimization in the education sector is so important.
The percentage of time Americans spend indoors according to the US Environmental Protection Agency.
The economic impact of 1 in 13 Americans suffering from asthma according to the EPA.
The percentage of asthma cases in school-aged children that could be prevented with good indoor air quality.
The number of schools across the nation that need to renew or upgrade their HVAC systems.
REQUEST A FREE PROJECT ASSESSMENT PLAN
Stark Tech has a long history of renewable energy and facilities management. Our unique six-step process accounts for all phases of development & commissioning processes.  
Customer Requirements & Evaluation;
Project design and engineering based on life-cycle modeling and forecasting;
Evaluation, selection, and coordination of project vendors and sub-contractors;
Project permitting and jurisdictional post-installation inspection;
Project Implementation & Construction Management;
Final system commissioning and benchmarking.