Full Service Support for Mission Critical Goals
We Partner to Provide Intelligent and Sustainable Solutions for Critical Environments Seeking to Achieve a Smaller Carbon Footprint.
CHOOSE THE RIGHT SOLUTION FOR YOUR CRITICAL ENVIRONMENT
Highly secure applications require cyber secure integrated solutions to achieve precise indoor climate conditions
Turnkey Project Management
End-to-End support from concept and design through project management & commissioning to scope and budget.
Our building technologies service can unlock untapped savings by controlling & managing your energy use.
Command center live monitoring, strategic action and service that minimize operational disruptions and optimize performance.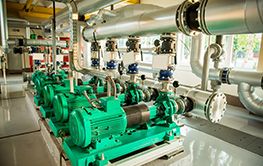 Engineered solutions for HVAC, critical power, thermal applications to control temperature, humidity & IAQ.
Factory-trained & certified OEM service provider, including start-up, configuration & inspection qualification. 
Clean-tech solutions, including solar development consulting, energy master planning,  and implementation.
Experienced in complex, high-tech environments
Industry leaders deploy digital technologies that help them measure and monitor progress toward these goals—before they can effectively position themselves as being genuinely sustainable in the eyes of customers.
Specific to our Florida market, we offer mechanical and electrical solutions to owners delivering world-class HVAC system maintenance, service, and installation services. Our dedicated team provides comprehensive client services from existing buildings to test & balance new construction.
Because of its scale and costs, the aerospace and defense industry faces one of the most difficult challenges of any enterprise when reaching for climate-neutral operations while meeting the regulations required to put new aircraft in the air. For example, a flight from London to New York produces as much carbon dioxide as an average person makes in a year. As more aerospace executives realize the importance of sustainability in their industry, there is a concerted effort to accelerate the transformation of this industry.
The aerospace and defense industry has identified manufacturing as a critical component in reducing energy consumption by an estimated 20%. By leveraging renewable energy at manufacturing sites across the United States, a major innovator in the Aerospace industry, for example, reduced greenhouse gas emissions by 10% by procuring wind, hydro, and solar renewable energy. While it may be a small step toward the industry's goal, aerospace is sharing its success stories throughout the ecosystem by engaging in partnerships that share a sustainable mindset.
The team at Stark Tech partners with the Government and Defense Programs to improve their carbon footprint by automating manufacturing facilities – not only to be more efficient but to monitor and report their energy savings. We integrated a building automation system at the National Aeronautics and Space Administration (NASA) facilities in Florida – specifically the Kennedy Space Center, Kennedy's Payload Hazardous Servicing Facility (the support building for the new Mars Rover), and the Vehicle Launch Building. Our team upgraded HVAC controls to maintain precise temperature and humidity, new air handling units and chiller controls, and integrated hyperbolic monitoring software to control air quality and exhaust. 
With this work, and efforts throughout the aerospace industry, Stark Tech is helping to accelerate sustainability initiatives. Aerospace and Defense industry executives anticipate adding sustainability performance indicators to financial, and customer reporting as long-term organizational strategies will move towards tracking the investment into environmental efficiency. Our ability to identify opportunities, improve efficiency, and monitor the effectiveness of these investments can accelerate more sustainable actions.
WHAT OUR CUSTOMERS ARE SAYING
Our clients recognize and value our distinctive and validated approach. No other organization matches our combination of building and energy systems expertise, analytics platform, engineering, & IT network professionals.  
aerospace is Investing in a Sustainable Future
The aerospace industry is investing in a journey toward more sustainable technologies, materials, production, and missions to help mitigate the challenges of climate change.
The percentage of aerospace executives that believe sustainability is a crucial topic to their industry.
The percentage of greenhouse gas emissions reduced by Boeing by using wind, hydro, and solar energy. 
The percentage of aerospace execs that believe it will be imperative for their industry to report sustainability.
By 2050, the commercial aviation industry expects to see C02 emissions increase by 2.6 times.
REQUEST A FREE PROJECT ASSESSMENT PLAN
Stark Tech has a long history of renewable energy and facilities management. Our unique six-step process accounts for all phases of development & commissioning processes.  
Customer Requirements & Evaluation;
Project design and engineering based on life-cycle modeling and forecasting;
Evaluation, selection, and coordination of project vendors and sub-contractors;
Project permitting and jurisdictional post-installation inspection;
Project Implementation & Construction Management;
Final system commissioning and benchmarking.