Creating the Optimal Growing Environments for agriculture
We Enhance Sustainable Environments by Infusing Technology Designed to Maximize the Operational Output of Building Efficiency.
Our energy solutions optimize Sustainable agriculture
Our optimization experts provide innovative solutions for landfill operations seeking to reach their sustainability goals and reduce their carbon footprint by offering environmentally friendly waste solutions.
Turnkey Project Management
End-to-End support from concept and design through project management & commissioning to scope and budget.
Master Systems Integration
Low voltage system integration of building controls, protective systems and life safety, and audio/visual solutions.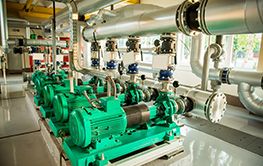 Engineered solutions for HVAC, critical power, thermal applications to control temperature, humidity & IAQ.
High-quality skid systems with engineering for compressed air, liquid applications, landfill, biogas & wastewater.
Clean-tech solutions, including solar development, energy master planning, consulting, and implementation.
Compression skid fabrication for compressed air, pumps, blowers, steam turbines with environmental protection.
Factory-trained & certified OEM service provider, including start-up, configuration & inspection qualification. 
Battery energy storage systems and engineering support for large-scale deployments and microgrid applications.
Environment is Crucial to Growing Success
Agriculture is the oldest, most adaptable industry as the planet is growing faster than our ability to feed it. 
Stark Tech is a market-leading clean-tech integrator with a mission to drive positive change through digital and energy technologies. With core expertise in building services and renewable energy production, we specialize in creating customized solutions that align energy efficiency and sustainability goals with the suitable building management systems and equipment.
In the next 30 years, we will need to feed and support more than 10 billion people with less water and land that's available today. 
Critical environments used to grow plants for medicine and indoor vertical farming are changing modern medicine and creating new reliable ways to grow safe food. 
Controlled environment agriculture (CEA) requires precision controls for optimal temperature, humidity, lighting and indoor air quality based on the needs of the specific plants being grown. 
Whether it's retrofitting an existing system or designing from the ground up, efficient interactions between the equipment and the operating system are critical to quality control and success. 
The integration of cultivation systems must take a holistic approach and align facility equipment with central plant operations. The central operating system automates everything from lighting and sprinkler systems to scheduling and harvesting. 
In sophisticated CEAs, different plants can be grown in one indoor farm and customized to the individual needs of each plant type.  
Our design engineers work directly with architects, contractors, engineering firms, and end users to select the right equipment and operating system to achieve optimal cultivation goals. 
WHAT OUR CUSTOMERS ARE SAYING
Our clients recognize and value our distinctive and validated approach. No other organization matches our combination of building and energy systems expertise, analytics platform, engineering, & IT network professionals.  
BUILDING MANAGEMENT THAT DELIVERS RESULTS
Stark Tech is working with the farming and agricultural industry to leverage biofuels into renewable natural gas and increase our nation's energy independence while reducing harmful emissions.
The percentage of emissions that livestock farming makes up of overall emissions in the US.
The number of metric tons of CO2 removed from the atmosphere because of sustainable land management.
The percentage of renewable energy sources added to the farming industry, including geothermal and solar.
The use of biofuels in farming since 2008 is equivalent to removing 18 million cars off the road.
REQUEST A FREE PROJECT ASSESSMENT PLAN
Stark Tech has a long history of renewable energy and facilities management. Our unique six-step process accounts for all phases of development & commissioning processes.  
Customer Requirements & Evaluation;
Project design and engineering based on life-cycle modeling and forecasting;
Evaluation, selection, and coordination of project vendors and sub-contractors;
Project permitting and jurisdictional post-installation inspection;
Project Implementation & Construction Management;
Final system commissioning and benchmarking.