HELPING DATACENTERS WITH THEIR CRITICAL POWER NEEDS
We Partner to Provide Intelligent and Sustainable Solutions for Critical Environments Seeking to Achieve a Smaller Carbon Footprint.
CHOOSE THE RIGHT SOLUTION FOR YOUR CRITICAL ENVIRONMENT
Our turnkey services and engineering support capabilities can be provided separately or combined for an integrated solution that delivers the results needed to achieve your optimization goals and objectives.  
Turnkey Project Management
End-to-End support from concept and design through project management & commissioning to scope and budget.
Our building technologies service can unlock untapped savings by controlling & managing your energy use.
Command center live monitoring, strategic action and service that minimize operational disruptions and optimize performance.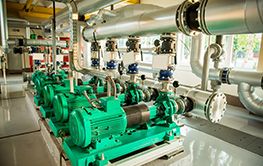 Engineered solutions for HVAC, critical power, thermal applications to control temperature, humidity & IAQ.
Factory-trained & certified OEM service provider, including start-up, configuration & inspection qualification. 
Clean-tech solutions, including solar development consulting, energy master planning,  and implementation.
data center sustainability improves with proven best practices
Our award-winning service techs can guide data center administrators through long-term cost reduction strategies to create a custom solution for achieving long-term sustainability.
Specific to our Florida market, we offer mechanical and electrical solutions to owners delivering world-class HVAC system maintenance, service, and installation services. Our dedicated team provides comprehensive client services from existing buildings to test & balance new construction.
Over the past decade, data centers have become increasingly more sustainable, but the rising demand for data in recent years has made the data center the largest consumer of power. Every second of the day, the average person creates approximately 1.7 MB of data, and 90% of that data has been made in the past two years. A data center uses a measurement called Power Usage Effectiveness (PUE). The PUE measures the power used to run a server as one, and ventilation systems, building security, heating, and cooling – are added. Just a few years ago, the PUE was up to two, which means a data center used another kilowatt of energy for every kilowatt of networking and data storage. Since then, the PUE has receded to 1.55 as new data centers come online with a holistic, sustainable infrastructure. It is estimated that 40% of the total energy consumed by legacy data centers is used for cooling purposes – so there is still work to be done to achieve a net-zero carbon footprint.
Partnering with a critical environment expert at Stark Tech can guide data center administrators on the green initiatives and pitfalls challenging their industry. Our team can implement a high-efficiency power and cooling infrastructure and monitor temperature and humidity levels to reduce the load on HVAC systems while forecasting future energy consumption. Long-term energy efficiency and cost reduction strategies may include solar, wind, and hydropower renewables. Aside from the sustainable benefits, renewable energy has been protected from global energy prices as a result of geopolitical conflict across the globe. Our award-winning service technicians can help identify energy waste with a complete energy-efficient solution, provide detailed mechanical and electrical schematics, cost of ownership and return on investment justification, and deliver conception to completion support.
Stark Tech is helping the data center industry to adapt and pursue sustainability initiatives. With our help and data-driven automated monitoring technology, industry executives can easily add sustainability to performance indicators such as customer and financial reporting as part of their organizational strategy toward a carbon neutral operation. Our ability to improve efficiency and monitor the investment into the cost of operations can trigger an accelerated effort of sustainable practices throughout the industry.
WHAT OUR CUSTOMERS ARE SAYING
Our clients recognize and value our distinctive and validated approach. No other organization matches our combination of building and energy systems expertise, analytics platform, engineering, & IT network professionals.  
data center optimization and sustainability efforts
Data center operators are working to advance sustainability in their industry by optimizing facilities to drive down costs and energy consumption by partnering with energy performance specialists.
The sustainable data center market is expected to grow  7.5% annually from $36 billion to $55 billion by 2027.
Estimates suggest that data centers account for up to 5% of global greenhouse gas emissions.
Approximately 40% of a data center's energy use results from 24/7 cooling in a temperature-controlled environment.
Advanced chiller equipment can be optimized to reduce average annual electricity consumption by 35%.
REQUEST A FREE PROJECT ASSESSMENT PLAN
Stark Tech has a long history of renewable energy and facilities management. Our unique six-step process accounts for all phases of development & commissioning processes.  
Customer Requirements & Evaluation;
Project design and engineering based on life-cycle modeling and forecasting;
Evaluation, selection, and coordination of project vendors and sub-contractors;
Project permitting and jurisdictional post-installation inspection;
Project Implementation & Construction Management;
Final system commissioning and benchmarking.