Building technology that operates efficiently and smoothly
A disciplined approach to commissioning because systems are required to be fully-functioning and operating as designed from day one and throughout the system lifecycle to meet project requirements.
Client alignment through entire engineering process to understand system requirements for design.
Process of planning, documenting, scheduling, testing, adjusting, verifying and operational training.
Automation software so all aspects of the system or systems operate in a persistently commissioned state.
Performance commissioning with functional testing of equipment on new construction and retrofit projects.
The benefits of commissioning for quality assurance
Building technologies require testing and documentation to confirm operation and performance of today's smart building designs.
Stark Tech can provide you with the specific equipment required for safe learning environments but can work with you to integrate it into your existing building infrastructure.
Commissioning is the quality assurance process that proves building and system performance meet specification requirements. This is a systematic process to ensure the building and operating systems are performing in accordance with design intent, the contract documents, and the owner's operational needs. 
Additionally, commissioning is critical for ensuring building designs have been successfully constructed and, at startup, are operating as intended. Dynamic commissioning goes a step further, and applies automation technology to persistently maintain systems at the operational intent throughout its lifecycle.
Stark Tech's proprietary software applies predictive analytics and machine learning to provide prescriptive maintenance strategies to ensure constant commissioning at the system and building level.
Energy efficient buildings, especially LEED and WELL certified buildings, require advanced control settings to evaluate the efficiency of design and qualify that the volatile organic compounds (VOC) emission content meets certification requirements. 
Finally, Stark Tech has proven success, providing commissioning services that have helped achieve up to 25% operational savings, 30% maintenance savings, and 40% energy savings.
CHOOSE THE SERVICE FOR YOUR NEEDS
Our turnkey services and engineering support capabilities can be provided separately or combined for an integrated solution that delivers the results needed to achieve your optimization goals and objectives.  
Turnkey Project Management
End-to-End support from concept and design through project management & commissioning to scope and budget.
Master Systems Integration with live monitoring & automated controls, actionable insights & optimization strategies.
Command center live monitoring, strategic action and service that minimize operational disruptions and optimize performance.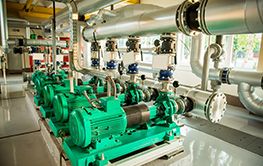 Engineered solutions for HVAC, critical power, thermal applications to control temperature, humidity & IAQ.
Factory-trained & certified OEM service provider, including start-up, configuration & inspection qualification. 
Battery energy storage systems and engineering support for large-scale deployments and microgrid applications.
Clean-tech solutions, including solar development, energy master planning, consulting, and implementation.
High-quality skid systems with engineering for compressed air, liquid applications, landfill, biogas & wastewater.
WHAT OUR CUSTOMERS ARE SAYING
Our clients recognize and value our distinctive and validated approach. No other organization matches our combination of building and energy systems expertise, analytics platform, engineering, & IT network professionals.
REQUEST A FREE PROJECT ASSESSMENT PLAN
Stark Tech has a long history of renewable energy and facilities management. Our unique six-step process accounts for all phases of development & commissioning processes.  
Customer Requirements & Evaluation;
Project design and engineering based on life-cycle modeling and forecasting;
Evaluation, selection, and coordination of project vendors and sub-contractors;
Project permitting and jurisdictional post-installation inspection;
Project Implementation & Construction Management;
Final system commissioning and benchmarking.