ENERGY SOLUTIONS TO ACHIEVE GREEN GOALS
We Enhance Municipal Environments by Infusing Technology Designed to Maximize the Operational Output of Building Efficiency.
HOW WE ACHIEVE YOUR Facilities OPTIMIZATION GOALS
Our turnkey implementation, master systems integration, equipment, and facilities management can offset deferred maintenance strategies in aging facilities with limited budgets and resource constraints.
Turnkey Project Management
End-to-End support from concept and design through project management & commissioning to scope and budget.
Our building technologies service can unlock untapped savings by controlling & managing your energy use.
Your security partner for scalable, integrated security solutions from design to implementation with lifecycle support.
Our industry-certified pro a/v team offers a full array of solutions, design, and installation services.
As an extension of your team, we'll help plan budgets and complete projects with alternative financing option.
Our intelligence solutions provide benchmarking, facilities and energy monitoring, and diagnostics.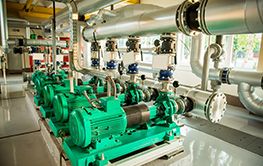 Stark Tech offers a range of mechanical and electrical infrastructure solutions to optimize facility optimization.
Clean-tech solutions, including solar development, energy master planning, consulting, and implementation.
Building a Comprehensive Roadmap for State and Local Agencies to Achieve Energy Resiliency and Stability
Energy Management Strategies and Renewable Integrations Required as States across America Set Clean Energy Goals to Reduce Greenhouse Gas Emissions 
Stark Tech specializes in Intelligent Building Solutions and is a leader in facility optimization, aligning technology with real-world experience across a diverse portfolio of capabilities.
Reducing the carbon footprint starts with a comprehensive energy roadmap to build a clean, resilient and affordable energy system at the state and federal level.
The public sector has been charged with developing and implementing plans that comply with new regulatory standards to meet carbon reduction goals like cutting 40 percent of greenhouse gas emissions. Some States, like New York, are also seeking 70% electricity to come from renewable energy resources, and a 600 trillion Btu increase in statewide energy efficiency. 
In order to meet these lofty goals within the next decade, investment in energy and feasibility studies are required to understand what it takes to integrate renewable energy sources into the grid. While this is necessary to carbon offsets, it takes time to implement. 
In the short-term, investments within government-owned buildings are needed to improve energy efficiency and workforce productivity. Improving energy efficiency is the least expensive and quickest way to reduce the use of fossil fuels, and technology plays in integral role in its success. 
Energy conservation measures in existing buildings can be applied to reduce energy usage and costs. For example, choosing LED light bulbs and deploying building automation systems can work together to optimize building efficiency.  In addition, when replacement time comes, implementing energy efficient and electric equipment can also play a role in decarbonization.  Further that, combined heat and power systems can be applied to capture waste and use it to provide heating, cooling, and hot water to nearby buildings and facilities. 
Addressing these factors will play a critical role in accomplishing decarbonization goals at the government level.
WHAT OUR CUSTOMERS ARE SAYING
Our clients recognize and value our distinctive and validated approach. No other organization matches our combination of building and energy systems expertise, analytics platform, engineering, & IT network professionals.  
MUNICIPAL BUILDING MANAGEMENT THAT DELIVERS RESULTS
With a long history of facilities management and expertise in indoor air quality, our team of experts understands why delivering holistic facility optimization in the education sector is so important.
The percentage of time Americans spend indoors according to the US Environmental Protection Agency.
The economic impact of 1 in 13 Americans suffering from asthma according to the EPA.
The percentage of asthma cases in school-aged children that could be prevented with good indoor air quality.
The number of schools across the nation that need to renew or upgrade their HVAC systems.
REQUEST A FREE PROJECT ASSESSMENT PLAN
Stark Tech has a long history of renewable energy and facilities management. Our unique six-step process accounts for all phases of development & commissioning processes.  
Customer Requirements & Evaluation;
Project design and engineering based on life-cycle modeling and forecasting;
Evaluation, selection, and coordination of project vendors and sub-contractors;
Project permitting and jurisdictional post-installation inspection;
Project Implementation & Construction Management;
Final system commissioning and benchmarking.
OVERVIEW:
The client, a major city in the United States, was having challenges processing and managing data from utility invoices. The process of paying utility bills was also time consuming and lacked capabilities to extract energy components for insight into efficiency.
SOLUTION:
The client wanted a solution that streamlined the payment process for all energy invoices with reporting functionality to improve transparency.
RESULTS:
The client saw an almost immediate return on investment, reducing internal process time by more than 80%. Each department gained visibility into their own energy use compared to other departments. The software also facilitates regulation compliance and reporting functionality.