Delivering Unified buildings through a Single Pane of Glass
Stark Tech delivers actionable insights through automation technology integrated for Division 25 specs, streamlining communication to improve efficiency, reduce waste and eliminate unnecessary costs
Continuous monitoring, customized facility dashboards, building controls, and fault detection and diagnostics.
Monitor power equipment, performance tracking with utility verification. Maximize up-time with action plan.
Diagnose root cause of failure, critical recovery and prevention, disturbance direction detection.
Avoid equipment overloading  and avoid unplanned downtime and costs with life extension action plan.
Unified security systems with communication to building management system to improve emergency response.
Professional audio / visual
Stunning and memorable audio visual experiences to elevate the user experience withing any space.
Design and integrate system infrastructure of all disparate technical systems into single pane of glass.
Striking the balance between performance expectations and proper building optimization
A solution to minimize overall energy consumption and balances equipment for Total Facilities Optimization
Stark Tech specializes in Intelligent Building Solutions and is a leader in facility optimization, aligning technology with real-world experience across a diverse portfolio of capabilities.
When integrating advanced building technologies into a single pane of glass, a master systems integrator (MSI) will customize solutions to deliver data and insights needed for actions that drive efficiency and control cost. 
Most solutions stop at reporting, but true value arrives when data is turned into action plans that recommend strategies to optimize energy efficiency and reduce waste.
Evaluating the operational needs and expectations of each building and asset in a portfolio begins with benchmarking so optimization actions can be prioritized and budgeted. 
Master systems integration streamlines communication protocols of IT systems and aligns them in a building management system. Automation protocols and setpoints can be baked into the solution to assist in facilities optimization. Having an integrated platform delivers information needed on performance, but the true value comes from the data-driven actions that come from understanding the holistic view of facility performance and then drill down to the asset level. 
A true optimization platform customizes a solution to monitor and control facility efficiency. Trending data from multiple sites can be used to create company-wide solutions that improve energy and operations across an entire portfolio of buildings.
Stark Tech applies advanced model-based analytical algorithms to continually monitor the health of equipment within our customers' facilities. The system identifies optimal operational setpoints and identifies system-level performance improvement actions that can be applied automatically. It can also send alerts with work order information to the team for remedial action.
Stark Tech combines master systems integration expertise with advanced technology to help customers improve efficiency, optimize building conditions, and improve their bottom line.
CHOOSE THE SERVICE FOR YOUR NEEDS
Our turnkey services and engineering support capabilities can be provided separately or combined for an integrated solution that delivers the results needed to achieve your optimization goals and objectives.  
Turnkey Project Management
End-to-End support from concept and design through project management & commissioning to scope and budget.
Our building technologies service can unlock untapped savings by controlling & managing your energy use.
Command center live monitoring, strategic action and service that minimize operational disruptions and optimize performance.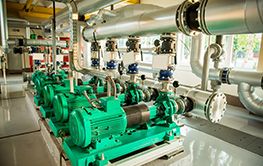 Engineered solutions for HVAC, critical power, thermal applications to control temperature, humidity & IAQ.
Factory-trained & certified OEM service provider, including start-up, configuration & inspection qualification. 
Battery energy storage systems and engineering support for large-scale deployments and microgrid applications.
Clean-tech solutions, including solar development, energy master planning, consulting, and implementation.
High-quality skid systems with engineering for compressed air, liquid applications, landfill, biogas & wastewater.
WHAT OUR CUSTOMERS ARE SAYING
Our clients recognize and value our distinctive and validated approach. No other organization matches our combination of building and energy systems expertise, analytics platform, engineering, & IT network professionals.  
REQUEST A FREE PROJECT ASSESSMENT PLAN
Stark Tech has a long history of renewable energy and facilities management. Our unique six-step process accounts for all phases of development & commissioning processes.  
Customer Requirements & Evaluation;
Project design and engineering based on life-cycle modeling and forecasting;
Evaluation, selection, and coordination of project vendors and sub-contractors;
Project permitting and jurisdictional post-installation inspection;
Project Implementation & Construction Management;
Final system commissioning and benchmarking.